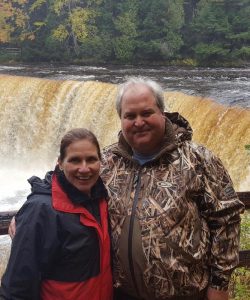 Dan and Donna Sahutske, DDS
Welcome to Oxford Lakes Dental Care. We are Dr. Donna and Dr. Dan Sahutske, and since graduating Marquette University School of Dentistry in 1987, we have been offering superlative dental care long enough to know a thing or two about how to get it done right! Our mission, and the reason we show up at our office every day, is to make a positive impact on as many lives as possible. This is so important to us that we insist on daily meetings with our team apart from patient treatment time to design positive influence.
We have more continuing education experience and hospital training than is required or necessary and belong to oodles of dental societies and dental organizations which we will be happy to share with you. What really makes us tick is our desire to consistently improve the quality and happiness of our lives and those of our patients, team, family and friends. By the way, we are not the typical "nerdy" dentist types. We enjoy our kids, our granddaughters, our horse and our cottage on Harsens Island. We spend a good part of the summer tooling around Lake St. Clair our 1958 Chris Craft skiff. We also enjoy vacationing, skiing, duck hunting, horse showing, listening to music, hanging with friends (not necessarily in that order) and a whole bunch of other stuff. The bottom line is, if you are looking for a great dentist, give us a try. We invite you to call our office, come in and meet everybody. You won't be sorry you did.