Many of our wonderful patients have been impressed by the level of care and treatment they received at Oxford Lakes Dental Care. Have a look at what they have to say about us: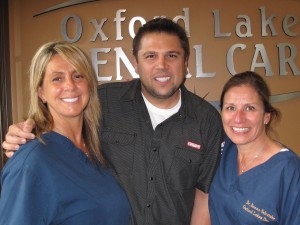 Tracey, Jay Towers and Dr. Donna. Jay Towers is our patient and promotes our practice on Fresh 100.3.
I have been coming to Oxford Lakes Dental Care because I feel the most comfortable of any doctor/dentist office I have ever been to. The staff feels more like friends than they do clinicians. I recommend to a lot of people.
-Cliff W.
I have not seen this level of professionalism in more than 15 or 20 years!              
-Bruce W.
Always cheerful, Dr. Donna and assistant Tracey are able to make what is often considered an uncomfortable experience into a careful, kind, and painless visit.   
-Gary L.
The staff was extremely helpful in scheduling appointments as well as financial plans. I definitely feel like I had people working on me that had my best interests and well being in mind and would recommend this dental facility to anyone.
-Andrew V.
Dr. Dan and Dr. Donna go above and beyond to make sure you are comfortable and let you know what they are doing and what to expect at all times. I wouldn't go anywhere else!             
-Nancy S.
I love this place. It's the best and it is so fun. I LOVE THIS PLACE.
-Michael K. (age 8)
I never thought having a cavity filled could be so much fun! Every time I visit the office I leave amazed. There seems to be a great mix of professional services and the corny, happy wonderful staff! I love coming here. Thank you so much!            
-Jim K.
Came in for a cleaning and the doctor saw a mark on my face. Told me I should have it looked at. I did have it looked at and it was cancer. We caught it early and it was removed. Two more spots were found and removed. I just wanted to thank Oxford Lakes Dental Care for the heads up they gave me.            
-Joe G.
I always find the staff helpful, kind and friendly. They always do their best to put jitters at ease, especially with nervous patients!             
-Sue E.
My only complaint is not enough fly fishing magazines. But the fact that I often ride my bicycle here and they gave me a bike bell once for my birthday.  
-Jim D.
The office staff is friendly and always helpful. Probably the first office that runs on time.              
-Del B.
The technology that you use is amazing! I've never had this thorough of an exam on my teeth. I can see why you were highly recommended to me!      
-Wendy C.
My five year old daughter Evie is the only person I know who begs to go to the dentist! I am very happy with Oxford Lakes Dental Care. Everyone had been so sweet and caring to me and my family.
-Theresa H.
Please keep up the good work! Quality service is rare these days and you all have a wonderful thing going on over there! I would not hesitate to recommend your office to anyone looking for excellent dental care!           
-Cathy L.
Just a note to Dr. Dan and staff letting them know about the great care and pain free time I experienced in their office. I had an implant and was getting a new bridge and they were all exceptional in making sure everything fit perfect and looked great.    
-Karen M.
We are so lucky to have been referred to Oxford Lakes Dental Care. We appreciate your friendly, professional and quality dental care!! Thank you so much.           
-Dave, Karen and Brian K.
I've never been a big fan of going to the dentist. The staff at Oxford Lakes Dental Care has an approach to making your dental experience very comfortable.  The best part is they also back it up with excellent care. Their friendly approach and excellent care will keep me coming back.
– Ken B.
As a child I grew up hating going to the dentist and I was always glad to just get my appointment over with. I always feared being scolded for not flossing or brushing enough. Then…I came here! I could go on and on about this office. Thank you Oxford Lakes Dental Care for making me feel more than just a patient.        
-Alicia C.
Thank you for fitting me in on your busy schedule. I only trust you to clean my teeth, so I flew back from Los Angeles to come here!
-Kevin S.
From the moment you walk in all your anxiety of being at the dentist melts away.           
-Angela P.
Everything about your business is professional. I tell everyone about my dentist and after coming here, I can't go back to my dentist in Sandusky, Ohio.  Dr. Donna is unbelievable and so is her staff.
-Ralph S.
I would like to thank you for taking good care of my teeth whenever I visit. The staff is so friendly I cannot help but smile. My dentist always tells me what she is going to do, so no questions need to be asked. You and your staff are really good at what you do.
-Hannah L. (age 12)
After many years of "dreading" a dental visit, my experience with your practice has impressed me to the point that I felt compelled to write and thank you for changing my outlook regarding dental services. Through my "emergency" visit and subsequent initial visit, I can truly say it was the most comprehensive, compassionate, informative and detailed examination I've ever encountered.       
-Carole G.